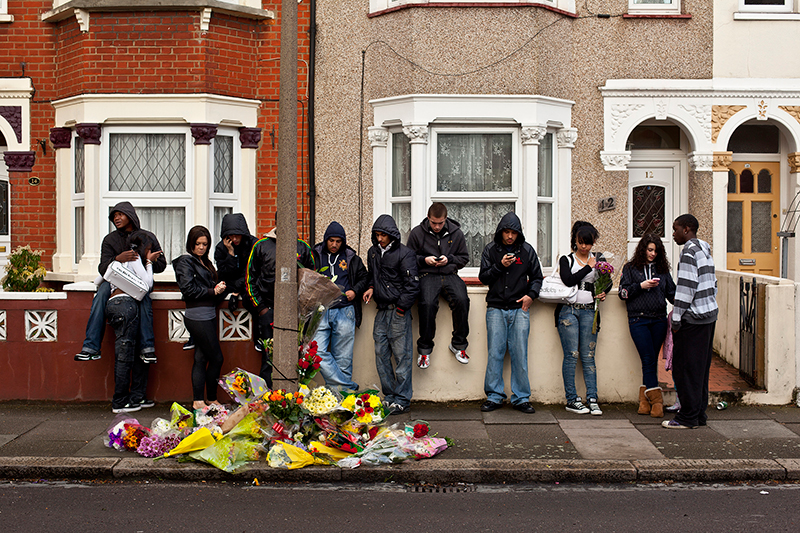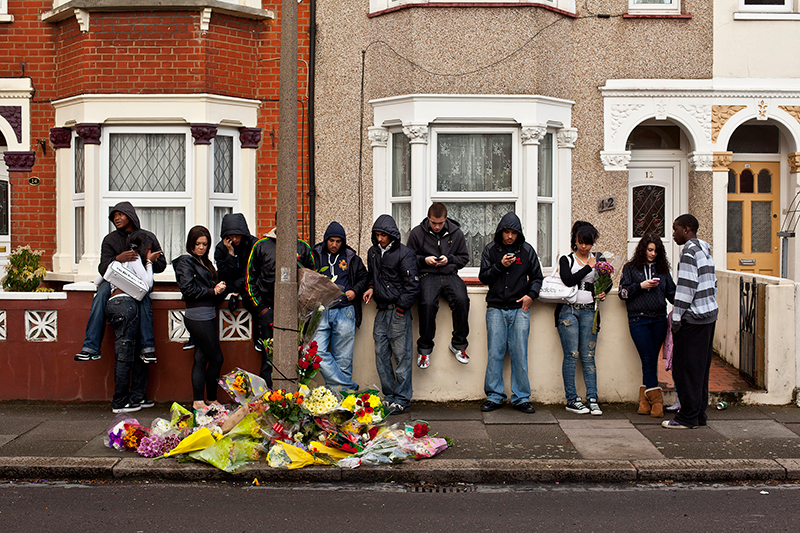 31 Dec

PODCAST: An interview with Antonio Olmos

In our interview with Antonio Olmos we discuss his journey as a photographer from Mexico to London, and the changes he has seen over his many years in the business, including the switch to film and the role of the mass media in disseminating photographic stories.

In his latest project, The Landscape of Murder, Antonio documents the scenes of the murders that have taken place within the M25 motorway during 2011 and 2012.

He visited each site within a few days, taking an image of what was there – from flowers, to crowds of people, to nothing but red tape. Antonio talks about working on London based stories, his philosophy and approach to photography, and his belief in the importance of being analytical rather than technical.

In our discussion of The Landscape of Murder we discuss Antonio's methods and composition, his decision to use a Google map and a blog, and the unexpected places and victims of these murders. His images challenge stereotypical views of London and question why these murders often go underreported.

Podcast – Full Interview

You can listen to the full interview which is about 70 mins long using the media player below, or download it to listen to offline using the icon:

Antonio's Biography

Born in Mexicali, Mexico, Antonio Olmos has lived in London since the mid 1990s. He is a passionate and socially conscious photojournalist, who works on issues concerning human rights, the environment and conflict.  After emigrating to the United States of America, Antonio worked as a photographer at several papers, including the Los Angeles Times, finally becoming a staff photographer at the Miami Herald. He then became a freelance journalist and moved back to Mexico City in 1991.

Antonio is also a dedicated editorial and portrait photographer and his images have regularly appeared in the UK broadsheet magazine as well as the Observer and Guardian newspapers. His latest long-term project, The Landscape of Murder, featured in The Observer (17th November 2013), documents murders that have taken place within the M25 over a 2 year period.

Antonio's Work

The Landscape of Murder Project


Project Book, published by Dewi Lewis

The following are links to the places, awards, photographers, etc mentioned during the interview:

Institutions/Organisations

Awards/exhibitions

Graciela Iturbide at Tate Modern

Photographers

Kai Wiedenhöfer – Wall on Wall

Niall McDiarmid – Crossing Paths Project

Music: GoodMood from the album Nouvelles Shortstories by Manuzik – www.jamendo.com/en/track/2082/goodmood

Interviewers: Chris King, Rebecca Enderby


Producer and Editor: Chris King

Featured Image: From the project The Landscape of Murder © Antonio Olmos

Interview Questions and Timecodes

0h 3m 21s : How did you start out as a photographer and how have you evolved?
0h 5m 0s : Did you find Mexico City limited for photography?
0h 5m 36s : Can you elaborate a bit more on your evolution as a photographer?
0h 7m 26s : Can you talk about the changes you have seen in your time as a photographer?
0h 8m 9s : And that (the several roles Antonio had when working as a staff photographer, which has now changed) was all your roll as a photographer?)
0h 9m 40s : Do you miss it (black and white photography on film)?
0h 10m 31s : Why has digital come of age in terms of colour but not black and white photography?
0h 12m 1s : How would you generally go about generating a personal project?
0h 14m 22s : Can you talk about how you came to work on your last project (The Landscape of Murder) and did you have an idea you would use it editorially?
0h 16m 37s : How did you find out about each of the (murder) cases?
0h 18m 0s : In regards to your approach: did you maintain the same approach form start to finish, in terms of the concept, composition and so on?
0h 21m 38s : How did you find peoples reactions when you asked permission to photograph them, or told them what you were doing?
0h 23m 2s : If they said no did you go back again when nobody was there?
0h 23m 28s : Did you ever feel unsafe?
0h 24m 9s : Did the information you gathered and what you came to see, did it fit your expectations in terms of demographics etc?
0h 25m 2s : It would be interesting to do your project several years ago and compare…:
0h 27m 14s : was it your interest in the locations that spawned the idea of using the Google map?
0h 29m 49s : Why did you decide you wanted to do a blog?
0h 31m 42s : Do you feel mainstream media has picked up on the project as much as you would like?
0h 33m 28s : Why do you think there's a failure on the part of the mainstream media to expose the majority of murders?
0h 35m 13s : What about the borough or local newspapers – do they cover these stories?
0h 37m 12s : But certain news tends to get more coverage/priority?
0h 37m 28s : You mention that domestic violence cases often go underreported…?
0h 38m 57s : Do you think domestic violence (murder) cases are underreported due to gender inequalities?
0h 42m 1s : Can you elaborate on the process of making your book? Did someone approach you?
0h 43m 31s : Do you think a large part of it (not being as many outlets to publish work) is to do with lots of newspaper magazines now being lifestyle-focused instead of exploring photo essays?
0h 46m 49s : Have domestic violence charities picked up on your body of work?
0h 49m 28s : In terms of your images choices (composition) how did you decide this, as some have many people in them, some have none etc: Was this a conscious choice?
0h 52m 30s : Can you explain what you mean by 'it (your project) wasn't 'a Weegee''?
0h 53m 24s : His (Weegee's) pictures are more voyeuristic aren't they?
0h 56m 11s : Beyond the book do you intend to take the project further? Any spin offs?
0h 56m 29s : It's great (to work in London) because there is so much to tell about London that doesn't get told…
1h 3m 22s : Can you recommend an exhibition or book that has recently inspired you?
1h 7m 8s : Can you recommend a photographer who you admire who is documenting a story on their doorstep?