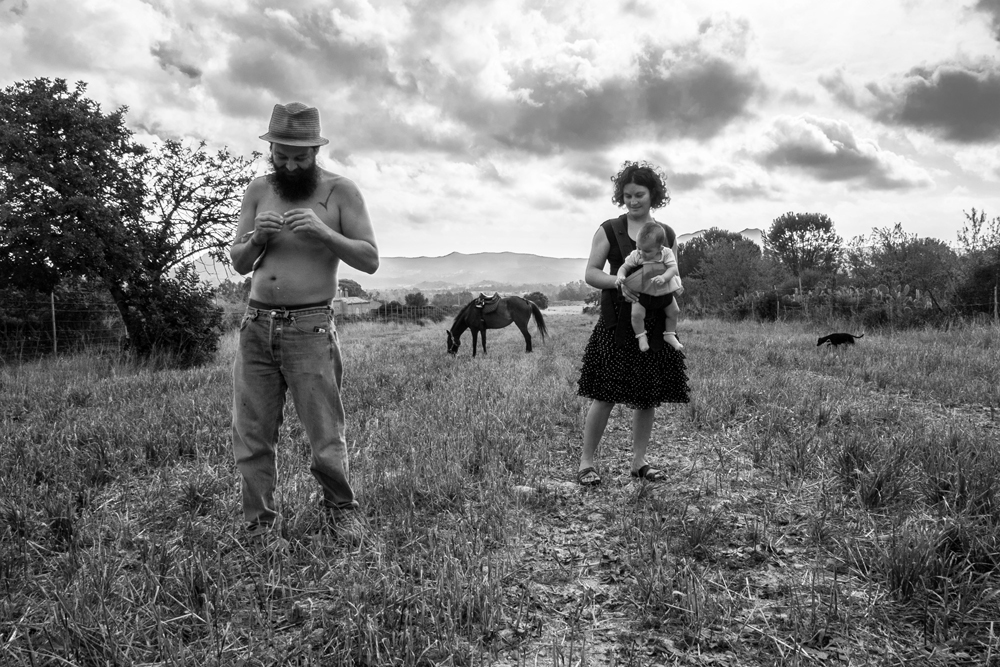 08 Feb

Shepherd 2.0

In 2011, Andrea went to San Vito (CA), Monte Porceddus Valley, located in southeast Sardinia (Italy), by bike for wwoofing (WWOOF: World Wide Opportunities on Organic Farms. Linking volunteers with organic farms and growers). Two years later, he is still there with his wife Sara and five-month-old daughter, Nadia. He sold his bike to buy a horse, quit his job as a contract manager for a company in Reggio Emilia (Italy), met his actual wife and a year ago started his new life as shepherd. Now they have 18 sheep, 2 goats, 3 horses, some hens, cats and dogs.

They live in a house built by Sara made of salvaged organic materials, such as wood, straw and clay. They try to be self-sufficient cultivating their garden and making pecorino cheese and mutton to sell. For additional needs, they barter with the other inhabitants of the valley or occasionally take side-jobs such as picking myrtle for a local company that makes myrtle liqueur. During the summer, they offer tourists a "shepherd experience day", asking for a donation.

They lack many things, but not for a want or need; for them, less is more. Andrea once told me, when we were out to pasture, that the first rule for a shepherd is to get used to the lack. He said, "We don't need much to be in harmony with ourselves and with nature." Rick Mave Photography

Andrea represents a "re-inhabitant". To re-inhabit is to return to those places in the countryside or mountain that are uninhabited or depopulated. Many people nowadays are leaving the cities and completely changing their lives because they are tired of the so-called 'developed cities' with their induced needs, unsatisfying and de-personalizing jobs, low quality of life based on hours in the car, shopping in big malls, fast-food and fast-life culture. While the world is running in that direction, there are even more young people who have decided to "re-live" places where they can enjoy the environment, cultivate the soil or have animals, as our fore-bearers did before us. They're taking a different, more environmentally friendly, cultural approach.
Living slow and enjoying a simple life.