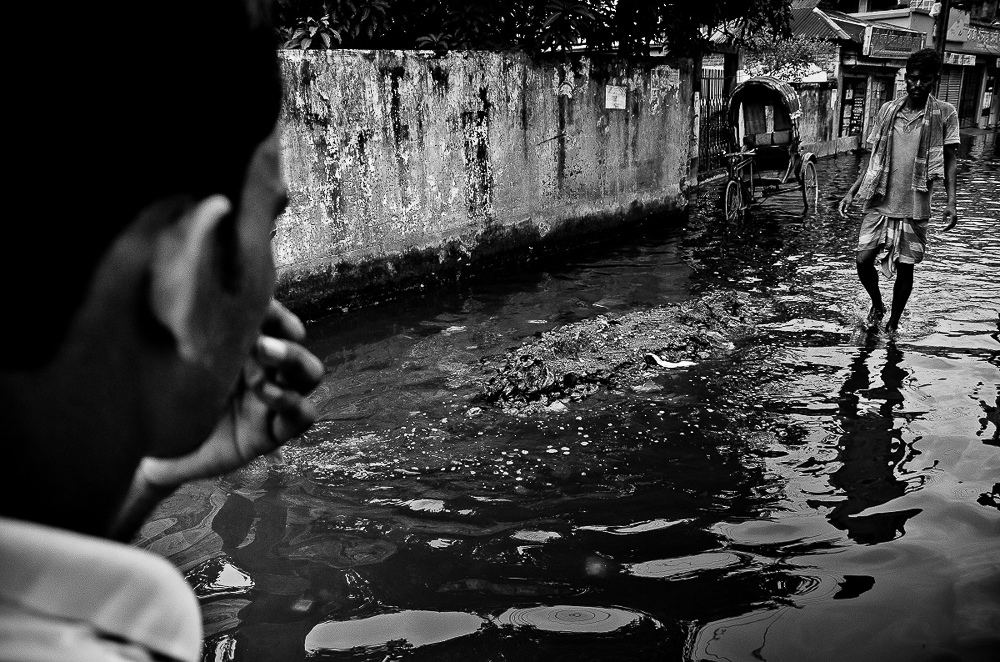 02 Dec

Blackwater Street

Dhaka, the capital of Bangladesh is one of the populous cities in the world. An unexpected rapid rate of growing urban population has made this city unable to cope with changing situations due to their internal resource constraints and management limitations. As a common and regular problem of the city, Dhaka city have been facing extensive water logging during the monsoon (May to October) over the last decade.

Dhaka is protected from river flooding by an encircling barrage. During the monsoon the water level in the river mostly remains higher than the terrain inside the city area which brought the reality water logging. Moreover inadequate drainage sections, conventional drainage system with low capacity and gravity, natural siltation, absence of inlets and outlets, indefinite drainage outlets, lack of proper maintenance of existing drainage system, and over and above disposal of solid waste into the drains and drainage paths are accounted for the prime causes of blockage in drainage systems, finally resulting water logging.

Many roads and low lying areas in Dhaka city goes under ankle to knee deep water due to heavy rainfall. This rain water becomes polluted as it mixes with solid waste, clinical waste, silt, contaminants, domestic wastes and other human activities that increase the water born diseases. It also makes the water stinky and black. As a result it becomes a burden for the Dhaka inhabitants, creating adverse social, physical, economical, environmental impacts, loss of income potentials and damage to daily life.

A close coordination among urban authorities, management of drainage system, NGO's, social agencies and collaboration of public and private sectors is needed for effective management and sustainable operation of urban drainage system to overcome water logging.