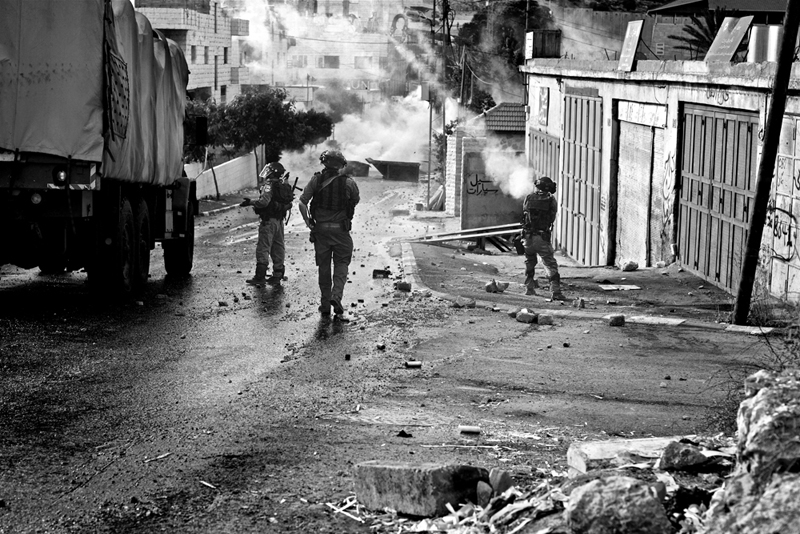 21 Feb

Battle for Bethlehem Gate

In November 2012 I travelled to the West Bank to initiate a story looking at life under occupation in Palestinian Refugee camps. Almost as soon as I arrived rocket exchanges between Gaza and Israel intensified for the first time in years, making international news. During the two weeks of intense rocket fire, Gaza was decimated, and received casualties in the mass numbers, however, despite talks of Israeli soldiers entering Gaza to initiate a ground offensive, this threat never materialized due a cease fire agreed almost three weeks after the first rockets were fired. In the West Bank it was a different Story. Palestinian protests swept across many West Bank cities in response to the Israeli bombardment on Gaza, and so my story evolved.

Aida camp in the Palestinian town of Bethlehem is one of the only camps in the West Bank that borders the Israeli separation wall, and has a gate from an Israeli military post directly into the camp. Once the protests erupted the gate from the Israeli military post was opened and the camp was flooded with soldiers. Clashes between residents and soldiers lasted for several days with the soldiers using tear gas, rubber bullets, stun grenades and live rounds on the residents of the camp, who had only rocks as weapons. Palestinian press covered the events equipped with helmets, gas masks, body armor and zoom lenses. The following images were captured with my Nikon camera and a 50mm fixed lens.