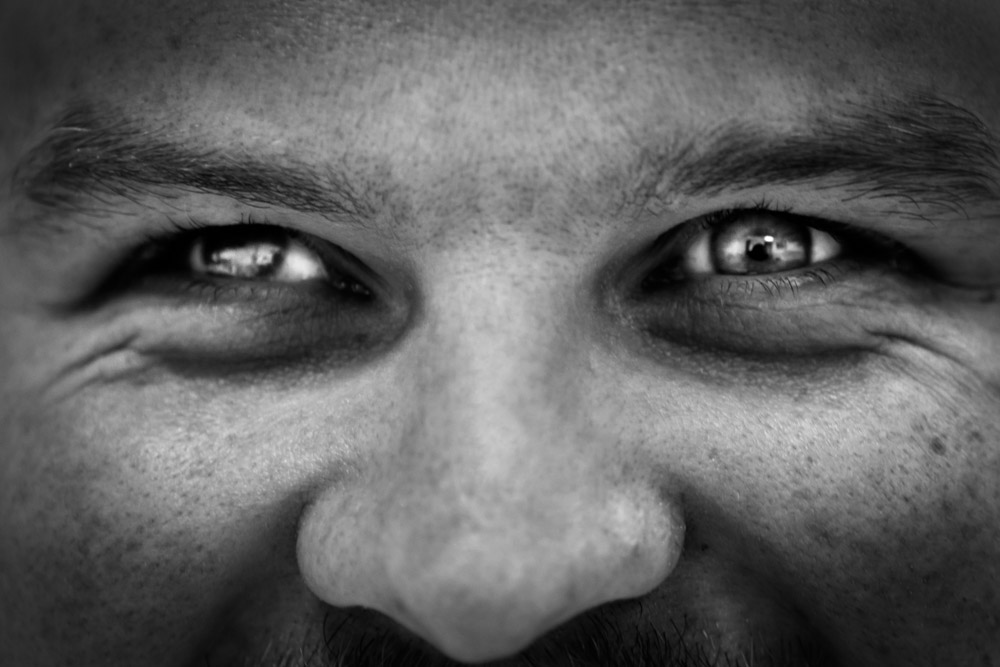 18 Mar

Beggi

This is Bergvin Oddson or Beggi as he's also known. He is a husband, father of two, a student at The University of Iceland where he study's politics, a standup comedian, a hard worker, a published writer and he is also blind.



Beggi hasn't always been blind. He lost his site in 2001 at the age of 15. He got the herpes virus, the same one that you get on your lips and bugs you for few days. First he got the virus in one eye and the virus blinded that eye. And few months later he suffered the same fate with the other eye. His doctor saw that the same thing was happening to the second eye and sent him from Iceland where he's from to Scotland where doctors and specialists there tried to give him the same medicine they give HIV patients to try and save his eye but it didn't work and he lost his sight. But that didn't stop Beggi from enjoying life to the full. He is a very socially active person. He, as I mentioned before, is a standup comedian. He goes to schools around the country and educates the school children about blindness and how to contact and communicate with the blind. Some people think it's better to speak louder to the blind and others think they need a wheelchair to get from A to B. These examples are real examples that Beggi has told me him self. Beggi and his wife just had they're second son in the beginning of February as you can see in my last image of this series.

I followed Beggi around from the beginning of September of last year until 4 of February. This series is my graduation work from my school, The School Of Photography in Reykjavík, Iceland.
Icelandic
Bergvin Oddsson, eða Beggi Blindi, er mjög ákveðinn maður sem að lætur ekkert stoppa sig. Hann fjölskyldumaður, giftur og er tveggja barna faðir og er mjög virkur félagslega en hann hefur t.a.m gefið út bækur, haldið fjöldan allan af uppistöndum sem og fræðslu um blinda fyrir börn og unglinga. Hann situr í hinum ýmsu stjórnum og nefndum. Bæði pólitískum sem og félagslegum. Hann var á framboðslista Samfylkingarinnar í Suðurkjördæmi í síðustu þingkosningum.
Hann hefur ekki alltaf verið blindur. Hann missti sjónina alveg árið 2001, þegar hann var 15 ára gamall. Þá fékk han frunsuvírusinn, Herpers, fyrst á annað augað sem að varð til þess að hann missti alla sjón á því auga og síðan nokkrum mánuðum síðar hlaut hitt augað sömu afleðingar. En þegar seinna augað sýktist  var hann sendur af augnlækninum sínum til Skotlands í meðferð. Þar var dælt í hann sama lyfi og gefið er HIV sjúklingum til að reyna að koma í veg fyrir að vírusinn myndi blinda hann alveg. Líkunar á því að fá frunsu í augað eru mjög litlar og þær eru ennþá minni að fá frunsuvírusinn í bæði augun sama árið, með nokkra mánaða millibili. 
Beggi er, eins og áður hefur komið fram, mjög félagslega virkur einstaklingur. Hann fer mjög reglulega í grunn- og framhaldsskóla landsins og heldur uppistand/fyrirlestur fyrir krakkana um hvernig eigi að koma fram við blinda. Hann hefur lent í því að vera boðið hjólastól til að komast á milli staða og einnig hækkar fólk rödd sína eins og hann heyri illa.
Ég fylgdi Begga eftir frá byrjun september s.l haust og fram til byrjun febrúar s.l þegar hann og kona hans eignuðust sinn annan son. 

Þessi sería mín er mitt lokaverkefni frá Ljósmyndaskólanum í Reykjavík.
All Images © Ofeigr Lydsson